Profile: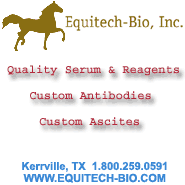 Equitech-Bio, Inc. is a biological manufacturer & OEM supplier of high quality Serum and Reagents. We maintain total control & traceability from the animal to the final product, and manufacture according to cGMPs.
Our Serum and Fractionation products are recognized as the finest in the industry. Our IgG and Albumin preparations have become the reference standard at major diagnostic and research institutions alike. Rigorous testing at each production step and strict quality control procedures provide the user with excellent lot-to-lot consistency. We offer various Animal Serum / Plasma products that include MBAC-12, Regular, Low IgG, Charcoal Stripped & Dialyzed Fetal Bovine Serum, Lyophilized, Delipidized & Charcoal Stripped Newborn Calf Serum, Bovine, Canine, Chicken, Donor Donkey, Feline, Guinea Pig, Cynomolgus Monkey, Mouse, Porcine, Rabbit, Rat & Sheep Serum.
Regular Fetal Bovine Serum is ideal for those who seek an uncompromising quality FBS. This is a perfect choice for researchers, vaccine manufacturers and protein engineers. It can be used in ELISA and other immuno assays as a protein source. Donor Bovine Serum is aseptically collected from tightly controlled standing herds of U.S. origin. All animals are certified free of antibiotics and detectable virus titers. Diet and worming are controlled & documented to ensure a healthy animal. Physiochemical constituents are measured to ensure lot-to-lot consistency.
Charcoal Dextran Stripped Human Serum is perfect for researchers requiring low levels of hormones. It reduces the concentration of steroid hormones in serum such as Estradiol, Progesterone, Cortisol, Testosterone, T3 and T4. All donors are tested for viral markers (HIVAg, HBsAg, HIV1 & 2) and found to be nonreactive. Delipidized Human Serum is derived from plasma and processed to remove hormone proteins & lipids. The material is collected from FDA licensed facilities.
Our Purified Immunoglobulins (Ig) are isolated from pooled normal serum by a proprietary chemical fractionation method. These preparations are supplied as lyophilized powder and can be supplied as liquid upon request. These are also useful as IgG control solutions for biochemical analytical tests and as a heterophile blocker.
We also offer Custom Antibodies and Custom Ascites Production. We are specialized in the production of Polyclonal Antibodies for the discriminating user. Our quality Polyclonal Antibodies are the reference standard for most major diagnostic manufacturers and research professionals alike. With carefully controlled donor herds and rigorous serum processing techniques, we can offer high titer & quality preparations.
Animal Sera | Animal Plasma | Anitisera | Albumins | Human Plasma | lgG
Edit or Enhance
this Company (
2789
potential buyers viewed listing,
939
forwarded to manufacturer's website)