Profile: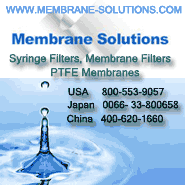 Membrane Solutions LLC is a provider of micro porous membrane products, technologies and services. We meet filtering needs of customers in a number of different industries, including the biosciences, industrial processing, laboratory testing, food and beverage, electronics & water treatment. We specialize in innovative and competence products, such as Pipettes & Tips, Membrane Filter and Syringe Filter.
Lab Filtration Product
We provide filtration products for essential separation and purification processes and help scientists anticipate and avoid problems in their downstream analyses by finding the optimum sample preparation method.
MS® Membrane Filters
Our Membrane filters are micro porous films with specific pore size ratings. Membranes retain particles and microorganisms that exceed their pore ratings by acting as a physical barrier and capturing such particles on the surface of the membrane. We offers membrane discs in diameters from 13mm to 293mm and materials including PES, MCE, Nylon, PVDF, PTFE, PP, and GF which are manufactured in ISO 9001 certified facilities.
Bottles and Tubes
Our MS® Disposable Bottles and Tubes either gamma irradiation sterilized or non- sterilized products are available in order to satisfy the different research requirements and enhance the practicability. All the features allow them been widely used in chemical and life science research. Our MS® Bottles & Tubes are manufactured in ISO 9001 certified facilities.
Cell Culture Supplies
Our MS® Cell Culture Supplies contain Cell Culture Dishes, Culture Flasks, Culture Plates and Culture Tubes. Our Cell culture supplies specifically support the needs of those working with cell culture applications. The culture process allows single cells to act as independent units, much like a microorganism such as a bacterium or fungus.
Membrane Media
Our Membrane filtration is a pressure-driven separation process that MS® Membrane Systems has helped pioneer for the industrial, food, water, chemical, and biotechnology markets, as well as for those providing environmental protection. Membranes serve as highly-engineered, physical barriers that permit the passage of materials only up to a certain size, shape or character. Membrane Solutions offers membrane products in a variety of configurations, materials and sizes, each designed to meet specific application needs. There are four six membrane material currently employed for liquid/liquid, liquid/solid Gas/solid separation such as PES Membrane, PTFE Membrane, PVDF Membrane, Nylon Membrane, PP Membrane, and Diagnosis Membrane.
Cartridge Filter
MS® Cartridge filters are available in all of the major membranes including PP, PTFE, PES, MCE, Nylon and PVDF which comes in various sizes for filtration volumes of a few liters to several hundred thousand liters. These filters are specially designed and developed for bioburden reduction and sterilization of liquids in SVP, LVP, Sterile API, Fermentation, and Vaccine manufacture.
Liquid Filter Bag
Our integrated technology manages the production of every filter bag, from fiber processing to the manufacture of the felt, to the final creation of the finished filter bags. We manufacture both single and multi-layered filter bags in a wide range of micron ratings, applicable for either vessel or open filtration systems. Our filter bags come in a variety of materials, such as polypropylene, polyethylene as well as nylon mesh, and a wide assortment of collar and ring types that ensure compatibility with most bag vessels on the market. And most filter bags come standard with the various sealing ring that provides a complete hermetic closure and eliminates the possibility of migration.
Capsule Filters
Our MS® capsule filters are designed for critical, small volume filter applications in the coatings, fine chemicals, pharmaceuticals and microelectronics markets. They contain pleated, absolute-rated, filter media providing excellent retention of particles at fast flow rates. The all polypropylene construction offers superior chemical resistance and durability in demanding process applications.
Syringe Filters
Our Syringe Filters are available in all of the major membranes including Nylon, PTFE, PES, MCE and PVDF, which are supplied in 13mm, 25mm and 33mm formats in virgin polypropylene housings.
Solvent Vacuum Filter
Our MS® Vacuum Filter is used primarily in microbiological and analytical procedures that involve collecting a particulate from a liquid suspension. Liquid poured into a funnel passes through a filter, which retains the particulate, and filtrate can be collected into a filter flask, directly or via a vacuum manifold. Applying vacuum reduces process time compared to gravity flow. Our Multi-branch Manifold filter is particular design and produce for several samples filtrate at the same time. Domestic laboratory filtrate liquid usually adopts the glass nature core, while this method only filtrates one sample once, and it has low speed, low efficiency, and less labor exertion. It is convenience for the operator who needs to filtrate several samples at the same time.
Microbiology Test Membrane
Mixed Esters of Cellulose (MCE) and Cellulose Acetate (CA) are suitable for microbiology and environment monitoring test. Contrasting grid lines facilitate counting colonies on the filter surface and are tested to assure freedom from grid line inhibition. We offer sterile membrane discs in diameters of 25mm 37mm 47mm and other diameter, also for different bacteria testing. We have 0.10um, 0.22um, 0.45um, 0.65um, 0.80um and 1.00um. Our Black membranes are tested for optimal recovery of yeast and total bacteria.